Amazon gets green-light to blow $10bn on 3,000+ internet satellites. All so Americans can shop more on Amazon
This post was originally published on this site
Amazon got the stamp of approval this week from America's communications watchdog to operate thousands of internet-relaying satellites into low Earth orbit.
When exactly they will launch hasn't been set. In fact, the design of the metallic birds are yet to be finalized, according to a report by the FCC. Still, Amazon hopes to deploy 3,236 of the satellites, under the banner Project Kuiper and at a cost of $10bn, to deliver internet connectivity to hard-to-reach areas in the US. The birds will go up in five batches, the first containing 578 sats at which point the service will be switched on.
"We have heard so many stories lately about people who are unable to do their job or complete schoolwork because they don't have reliable internet at home," said Dave Limp, a senior veep at Amazon, on Friday heralding the FCC approval. "There are still too many places where broadband access is unreliable or where it doesn't exist at all. Kuiper will change that."
The constellation will orbit between 590 and 630 kilometres above the surface of the Earth, and according the FCC will use the frequencies 17.7-18.6GHz for space-to-Earth, 18.8-20.2GHz also for space-to-Earth, and 27.5-30.0 GHz for Earth-to-space.
"After review of the record, we conclude that the grant of the Kuiper application will serve the public interest, subject to the requirements and conditions specified herein," the FCC report stated. "The broadband services Kuiper proposes to provide will benefit American consumers."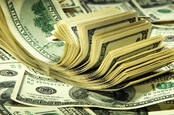 Amazon's coronavirus symptoms: Swelling of the profit, large sales deposits, insatiable demand
Amazon has up until July 30, 2026 to launch 50 per cent of its fleet, and until July 30, 2029 to launch the other half. As per the updated FCC rules, the e-commerce giant will have to submit a detailed plan of how it plans to minimize the risk of creating and spreading orbital debris. As more and more satellites are lobbed into space, the probability of stuff colliding with one another gets higher.

Bits of metal dislodged from the birds could crash into others that could, in turn, lead to a chain reaction creating a sea of floating debris that will thwart the launch and deployment of future spacecraft, something known as the Kessler effect. "It is further ordered that upon finalization of its space station design and prior to initiation of service, Kuiper must seek and obtain the Commission's approval of a modification containing an updated description of the orbital debris mitigation plans for its system," the FCC wrote.

It's unclear how Amazon is going to get these satellites into orbit. CEO Jeff Bezos does have Blue Origins, a space rocket company of his own, though. ®

August 1, 2020