Cache me if you can: HDD PC sales collapse in Europe as shoppers say yes siree to SSD
This
post
was originally published on
this site
The days of spinning rust in lappies looks numbered and deskops will be next, says analyst
Dearly beloved, let us take a moment to remember the spinning rust featured in PCs for the last four decades. This year "no new laptops" will have an HDD inside, and desktops' innards will go the same way in 2020.
Or so claims Context, the analyst that collates sale of technology via distributors. In this case, it has tracked the proportionate decline of HDDs notebooks, desktops and workstations.
In the UK, for example, HDDs were used in 34.5 per cent of computer shipments in 2017 and SSDs made up the remainder; a year later HDDs made up 23.8 per of PCs; and in 2019 HDDs fell to 9.9 per cent. In Germany, just 6.6 per cent of PCs contained HDDs, in the Netherlands this was 2.4 per cent.
"The sharp fall in price per gigabyte observed in 2019 is the main driver of accelerating SSD adoption as it enables vendors to sell SSD configurations at competitive prices," said Gurvan Meyer, business enterprise analyst at Context.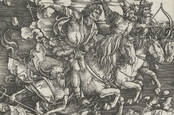 Horsemen of the disk-drive apocalypse will ride upon 256TB SSDs
The slump in NAND flash prices – supply outstripped demand – in late 2018 and for much of 2019 aided the demise of hard disk drives.

Online storage is getting cheaper, streaming services are more popular and people have comparatively less need for higher capacity local storage, Meyer added.

"Vendors can therefore sell models with less storage and this, too, is supporting the transition toward SSDs. And, last but not least, the majority of consumers have now experienced the advantages that SSDs bring to day-to-day computer use so are happy to pay a little more for a machine with this type of storage," he said.

Faster booting times and fewer spinning parts to go wrong won't have hurt the plight of SSDs among consumers or business buyers.

It isn't a surprise that 93.3 per cent of new laptops sold across Western Europe in 2019 had SSDs as their primary storage component. In desktop, solid state accounted for 82 per cent PCs sold, up from 48.5 per cent.

Buyers in Southern Europe lag the average, particularly in Italy and Spain.

Context said that based on this trend, it is "pretty safe" to say that by the close of the year, "no new laptop sold in Western Europe will have HDDs as the primary storage component – and there's not much doubt the desktop segment will follow closely in 2021." ®

Sponsored: Detecting cyber attacks as a small to medium business

February 14, 2020