Category:
Cyber Threat Alliance
Security experts are poring over thousands of new Coronavirus-themed domain names registered each day, but this often manual effort struggles to keep pace with the flood of domains invoking the virus to promote malware and phishing sites, as well as non-existent healthcare products and charities. As a result, domain name registrars are under increasing pressure to do more to combat scams and misinformation during the COVID-19 pandemic.
By most measures, the volume of new domain registrations that include the words "Coronavirus" or "Covid" has closely tracked the spread of the deadly virus. The Cyber Threat Coalition (CTC), a group of several thousand security experts volunteering their time to fight COVID-related criminal activity online, recently published data showing the rapid rise in new domains began in the last week of February, around the same time the Centers for Disease Control began publicly warning that a severe global pandemic was probably inevitable.
"Since March 20th, the number of risky domains registered per day has been decreasing, with a notable spike around March 30th," wrote John Conwell, principal data scientist at DomainTools [an advertiser on this site]. "Interestingly, legitimate organizations creating domains in response to the COVID-19 crisis were several weeks behind the curve from threat actors trying to take advantage of this situation. This is a pattern DomainTools hasn't seen before in other crises."
Security vendor Sophos looked at telemetry from customer endpoints to illustrate the number of new COVID-related domains that actually received traffic of late. As the company noted, one challenge in identifying potentially malicious domains is that many of them can sit dormant for days or weeks before being used for anything.
"We can see a rapid and dramatic increase of visits to potentially malicious domains exploiting the Coronavirus pandemic week over week, beginning in late February," wrote Sophos' Rich Harang. "Even though still a minority of cyber threats use the pandemic as a lure, some of these new domains will eventually be used for malicious purposes."
CTC spokesman Nick Espinosa said the first spike in visits was on February 25, when group members saw about 4,000 visits to the sites they were tracking.
"The following two weeks starting on March 9 saw rapid growth, and from March 23 onwards we're seeing between 75,000 to 130,000 visits per weekday, and about 40,000 on the weekends," Espinosa said. "Looking at the data collected, the pattern of visits are highest on Monday and Friday, and the lowest visit count is on the weekend. Our data shows that there were virtually no customer hits on COVID-related domains prior to February 23."
Milwaukee-based Hold Security has been publishing daily and weekly lists of all COVID-19 related domain registrations (without any scoring assigned). Here's a graph KrebsOnSecurity put together based on that data set, which also shows a massive spike in new domain registrations in the third week of March, trailing off considerably over the past couple of weeks.
Not everyone is convinced we're measuring the right things, or that the current measurements are accurate. Neil Schwartzman, executive director of the anti-spam group CAUCE, said he believes DomainTool's estimates on the percentage of new COVID/Coronavirus-themed domains that are malicious are too high, and that many are likely benign and registered by well-meaning people seeking to share news or their own thoughts about the outbreak.
"But there's the rub," he said. "Bad guys get to hide amidst the good really effectively, so each one needs to be reviewed on its own. And that's a substantial amount of work."
At the same time, Schwartzman said, focusing purely on domains may obscure the true size and scope of the overall threat. That's because scammers very often will establish multiple subdomains for each domain, meaning that a single COVID-related new domain registration could eventually be tied to a number of different scammy or malicious sites.
Subdomains can not only make phishing domains appear more legitimate, but they also tend to lengthen the domain so that key parts of it get pushed off the URL bar in mobile browsers.
To that end, he said, it makes perhaps the most sense to focus on new domain registrations that have encryption certificates tied to them, since the issuance of an SSL certificate for a domain is usually a sign that it is about to be put to use. As noted in previous stories here, roughly 75 percent of all phishing sites now have the padlock (start with "https://"), mainly because the major Web browsers display security alerts on sites that don't.
Schwartzman said more domain registrars should follow the example of Los Angeles-based Namecheap Inc., which last month pledged to stop accepting the automated registration of website names that include words or phrases tied to the COVID-19 pandemic. Since then, a handful of other registrars have said they plan to manually review all such registrations going forward.
The Internet Corporation for Assigned Names and Numbers (ICANN), the organization that oversees the registrar industry, recently sent a letter urging registrars to be more proactive, but stopped short of mandating any specific actions.
Schwartzman called ICANN's response "weak tea."
"It's absolutely ludicrous that ICANN hasn't stepped up, and they will bear significant responsibility for any deaths that may happen as a result of all this," Schwartzman said. "This is a CYA response at best, and dictates to no one that they should do anything."
Michael Daniel, president of the Cyber Threat Alliance — a cybersecurity industry group that's also been working to fight COVID-19 related fraud — agreed, saying more pressure needs to be applied to the registrar community.
"It's really hard to do anything about this unless the registrars step up and do something on their own," Daniel said. "It's either that or the government gets involved. That doesn't mean some [registrars] aren't doing what they can, but in general what the industry is doing is nowhere near as fast as the bad guys are generating these domains."
The U.S. government may well soon get more involved. Earlier this week, Senators Cory Booker (D-N.J.), Maggie Hassan (D-N.H.) and Mazie K. Hirono (D-Hawaii) sent letters to eight domain name company leaders, demanding to know what they were doing to combat the threat of malicious domains, and urging them to do more.
"As cybercriminals and other malevolent actors seek to take advantage of the Coronavirus pandemic, it is critical that domain name registrars like yours (1) exercise diligence and ensure that only legitimate organizations can register Coronavirus-related domain names and domain names referencing online communications platforms; (2) act quickly to suspend, cancel, or terminate registrations for domains that are involved in unlawful or harmful activity; and (3) cooperate with law enforcement to help bring to justice cybercriminals profiting from the Coronavirus pandemic," the senators wrote.
The Coronavirus has prompted thousands of information security professionals to volunteer their skills in upstart collaborative efforts aimed at frustrating cybercriminals who are seeking to exploit the crisis for financial gain. Whether it's helping hospitals avoid becoming the next ransomware victim or kneecapping new COVID-19-themed scam websites, these nascent partnerships may well end up saving lives. But can this unprecedented level of collaboration survive the pandemic?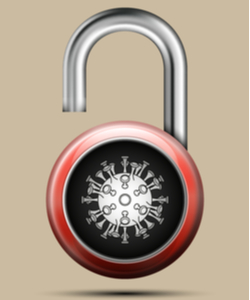 At least three major industry groups are working to counter the latest cyber threats and scams. Among the largest in terms of contributors is the COVID-19 Cyber Threat Coalition (CTC), which comprises rough 3,000 security professionals who are collecting, vetting and sharing new intelligence about new cyber threats.
Nick Espinosa, a self-described "security fanatic," author and public speaker who's handling communications for the CTC, said the group does most of its work remotely via a dedicated Slack channel, where many infosec professionals seem eager to counter the gusto with which the cybercriminal community has sought to profit by exacerbating an already difficult situation.
"A nurse or doctor can't do what we do, and we can't do what they do," Espinosa said. "We've seen a massive rise in threats and attacks against healthcare systems, but it's worse if someone dies due to a malicious cyberattack when we have the ability to prevent that. A lot of people are involved because they're emotionally attached to the idea of helping this critical infrastructure stay safe and online."
Using threat intelligence feeds donated by dozens of cybersecurity companies, the CTC is poring over more than 100 million pieces of data about potential threats each day, running those indicators through security products from roughly 70 different vendors. If at least 10 of those flag a specific data point — such as a domain name — as malicious or bad, it gets added to the CTC's blocklist, which is designed to be used by organizations worldwide for blocking malicious traffic.
"For possible threats, meaning between five and nine vendors detect an indicator as bad, our volunteers manually verify that the indicator is malicious before including it in our blocklist," Espinosa said.
Another Slack-based upstart coalition called the COVID-19 CTI League spans more than 40 countries and includes professionals in senior positions at such major companies as Microsoft Corp and Amazon.com Inc.
Mark Rogers, one of several people helping to manage the CTI League's efforts, told Reuters the top priority of the group is working to combat hacks against medical facilities and other frontline responders to the pandemic, as well as helping defend communication networks and services that have become essential as more people work from home.
"The group is also using its web of contacts in internet infrastructure providers to squash garden-variety phishing attacks and another financial crime that is using the fear of COVID-19 or the desire for information on it to trick regular internet users," wrote Reuters' Joe Menn.
"I've never seen this volume of phishing," Rogers told Reuters. "I am literally seeing phishing messages in every language known to man."
Among the more mature organizations working to counter the threat from COVID-19 scammers is the Cyber Threat Alliance, a industry group founded in 2017 that counts among its members more than two dozen major cybersecurity firms that are all required to regularly share threat intelligence with other members.
"One thing we're paying attention to in addition to phishing and malware attacks is anything targeting stuff involved in the pandemic response, such as the manufacturers of protective gear, testing kits, or hospitals," CTA President Michael Daniel told KrebsOnSecurity. "One of those organizations getting hit with ransomware now would be really bad, and we want to make sure if we see that we're alerting and working with law enforcement."
Earlier this month, the international police network INTERPOL issued a warning to law enforcement in nearly 200 member countries, saying it had detected "a significant increase in the number of attempted ransomware attacks against key organizations and infrastructure engaged in the virus response."
The alert came after several top ransomware gangs pledged a moratorium on attacking hospitals and other care centers for the near future. Nevertheless, these group have continued to target companies on the periphery of the pandemic response, including virus testing labs, N95 mask production facilities, and companies engaged in vaccine research.
The CTC's Espinoza said it would be a potentially fatal mistake to assume all cybercriminal groups might observe such a cease-fire.
"We might have independent criminal groups saying they won't hit hospitals but they'll hit everyone else, but that doesn't prevent them from sending phishing emails and masquerading as the World Health Organization or the Centers for Disease Control," he said. "These are people who have no problems locking out little old ladies out of their computers for 800 bucks, and of course there are state-sponsored hackers who love any opportunity to sow discord and disrupt things."
SURVIVING THE PANDEMIC
The CTA's Daniel said while it's great to see so much voluntary collaboration between the cybersecurity industry, governments and law enforcement, he's been thinking a lot lately about how to sustain these relationships and networks once the urgency of the pandemic subsides.
Formerly special assistant to President Obama and cybersecurity coordinator on the National Security Council, Daniel said he sees preserving and enhancing this information sharing effort post-COVID as one of the biggest policy issues facing the federal government over the next few years.
"Information sharing is easy to talk about, and hard to do in practice," Daniel said. "I don't use the term 'public-private partnership' because it's been bandied about so much over the years that I don't know what it means anymore. It's probably best described as 'working together on an operation.'"
What prevents private companies from working more closely and frequently with governments on operations to target cybercrime organizations and networks? Daniel said on the government side, there are real concerns that working with one or two particularly clueful or effective companies (versus all of them) might give the impression that the government is showing favoritism, or picking winners and losers in the market.
"But you have to do that to some extent because the truth is some companies matter in this space, and a lot don't," Daniel said. "The government has to accept that, determine what are the objective rules, and establish transparency so that [their efforts] aren't seen as some secret club but as part of a normal process."
Daniel said governments in general also need to get more comfortable sharing information about operations targeting specific crime groups in advance of those actions.
"The government has to figure out how to let the private sector in on some of the planning and preparation," he said. "If you want [the cybersecurity industry's] help against certain targets, you have to tell us who they are ahead of time. But this goes against how governments operate in almost every way."
On the private sector side are issues of how for-profit companies can closely collaborate with the government without being perceived as potentially compromising the privacy and security of their customers, or as simply an agent of the government.
"For companies, the question is how do you deal with the liability and other questions that come with that," Daniel said. "These are very real impediments, and why I think we need to get past the endless discussions of public-private partnerships and start talking about what we can do to coordinate actions against these groups so we can have a more strategic impact on the adversary."