Facebook in a tizzy about 5 million paying users of its suits collab platform Workplace
This post was originally published on this site
Born too late to play the role of Star Trek's Commander Data, Facebook boss Mark Zuckerberg took to the streams last night as the company confirmed a jump in users of its Workplace platform.
Having reached three million paid users by October 2019, the user count for Facebook's take on enterprise collaboration has now hit the five million mark as the company bids to move from just being that thing Karen and Greg use to complain about social distancing in their local park to something more suitable for suits now stuck at home.
The number sounds impressive, until one considers that Microsoft CEO Satya Nadella used his company's vaguely awkward virtual Build event this week to boast 75 million daily active users of Teams (although did not clarify how many were actually paying for the service).
Still, with Facebook's track record as a custodian of user data, we can see why businesses might flock to the platform. Or not.
To further sweeten the Workplace pill, Facebook has also added Workplace Rooms, a variant on the recent Messenger rooms, with the ability to connect up to 50 people, including those outside of the organisation and without Workplace accounts. The move comes as the likes of Zoom continue to run riot in the videoconferencing space and workers adjust to a more remote life.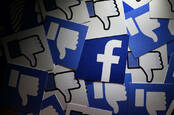 If it feels like the software world is held together by string and a prayer, we don't blame you: Facebook SDK snafu breaks top iOS apps
The gang has also added Live Producer to improve the joy of broadcasting live on a Workplace (replete with captioning and Q&A) and those home workers with a Facebook Portal can use the device's camera and sound capabilities "to engage with their colleagues".

You'll get the ability to watch Workplace Live on Facebook's video-calling device, Portal, in June, you lucky people.

The company also touted the gangbusters growth of its Work Groups, a workplace-friendly Facebook group, with 20 million monthly active users and more than 170,000 Work Groups six months after launch.

Its VR biz, Oculus, also got a nod with the emergence of Oculus Business from closed beta. The Oculus for Business platform, built on Workplace, is geared towards managing fleets of the idiot visors, while also giving users a slightly less intimidating version of the company's VR app launcher.

Things have changed in the working world as a result of the pandemic, with remote working now commonplace (including for those toiling away in Zuck's social media mines).

"We believe this is a trend that will have lasting consequences," said Facebook. "Not least because it has acquainted millions of people with the power of video collaboration and the importance of video presence when working remotely."

Facebook remains some way behind the likes of Slack and Microsoft on the collaboration front, and there is every danger that "Zoom" might become a byword for videoconferencing in the same way "Google" is for web searching.

The growth, while impressive, is still dwarfed by the company's rivals. Teams, after all, was launched around the same time as Workplace. ®

Sponsored: How to simplify data protection on Amazon Web Services

May 22, 2020