Lawsuit klaxon: HP, HPE accused of coordinated plan to oust older staff in favor of cheaper, compliant youngsters
This post was originally published on this site
HP Inc and Hewlett Packard Enterprise have been sued for age discrimination by former employee Daniel Cochran, who spent 26 years at HP, and at HPE after 2015 when the biz split in two.
The initial complaint, filed in Colorado federal district court earlier this month and amended on Thursday, [PDF], accuses the two American giants of coordinating their efforts to implement a "workforce reduction plan" that eliminated the jobs of older workers in violation of the law.
"They keep doing workforce reduction plans that discriminate against people over 40," said Jeffrey Hogue, a partner at Hogue & Belong and one of Cochran's attorneys, in a phone interview with The Register.
The lawsuit arrives at a time when employment (and any healthcare tied to it) has become increasingly uncertain due to the financial impact of the global coronavirus crisis. IBM just initiated a round of job cuts, several thousand it's estimated, and HPE, after a dismal Q2 earnings report led to a promised spending cut of $1bn, is expected to do the same.
According to the US Department of Labor, more than 2.4m [PDF] US workers filed for unemployment last week. In this environment, older employees have reason to be concerned that they will be targeted for dismissal.
Like IBM, which faces hundreds of legal claims of alleged age discrimination, HP and its corporate descendants have been hit repeatedly by lawsuits from older workers.
According to Cochran's complaint, there were 29 age discrimination complaints filed against HP between July 1, 2012 and February 21, 2017, just in California. Hogue's firm has been involved in five to date, two of which have been resolved, one of which has been stayed, and the other two are ongoing.
One of those involves Cochran, aged 63; the other involves Bryant Fonseca, whose lawsuit was initially filed in 2017, at the age of 55, after he was terminated following 35 years of service. The Fonseca complaint includes both age discrimination and anti-trust allegations, the latter arising from the workforce reduction plan's anti-compete requirements, said to result in wage suppression and limited job mobility.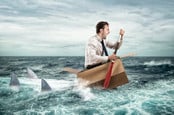 IBM age discrimination lawsuit suddenly ends, suggests Big Blue was willing to pay to avoid discovery process
The Fonseca complaint, which has been amended several times, included an estimate last September that at least 1,700 people would qualify to bring age discrimination claims against HP or its successors were the lawsuit certified as a class action.

Cochran's complaint contends that despite their corporate separation, HPE and HP Inc acted as one. "HPE's and HPI's hiring and firing decisions were made in tandem," the complaint says. "…Both entities promoted, perpetuated, and they helped facilitate one another's age discrimination."

In 2012, it's alleged, HP had the oldest workforce in the tech industry, with a median employee age of 39. With higher labor costs than other companies – because older workers tend to be paid more than recent hires – the company swung an ax through its teams with the explicit aim to replace costly older workers with less expensive younger ones.

The complaint cites statements by former chief executive Meg Whitman and CFO Cathie Lesjak (current CFO of HP Inc) that outline a strategy focusing on young people. And it notes, "as of 2015, out of all of the employees HP terminated pursuant to the workforce reduction plan in a single State, 85 per cent of those terminated were in the age protected class."

The reduction plan allows for a two-week "Redeployment Period" and a 60-day "Preferential Rehire Period," in which employees who lose their jobs can seek other corporate positions.

But Cochran's complaint argues the program is sham. Cochran, who lost his job as Technical Marketing Engineer in HPE's Software Defined & Cloud Group last year, applied for 40 jobs at the firm, 33 during the Redeployment and Preferential Rehire Period, and was not hired for any of them.

"In fact, during the Preferential Rehire Period, HP's older employees are almost never rehired," the complaint says, using the term HP for both HPE and HP Inc.

"If older employees are even offered a job, the job is rarely, if at all, comparable to the one that employee held before he or she was terminated. And, worse yet, after the Preferential Rehire Period is over, per HP policy that age protected employee can never be rehired by HP again."

"I think it's unfair for the employees [after Preferential Rehire Period] to be prohibited from being rehired," said Hogue.

The lawsuit notes that as of August 2013, HP's human resources guidelines require 75 per cent of new hires to be "Graduate" or "Early Career" employees, terms the Equal Employment Opportunity Commission considers to be illegal in job notices because they discourage older applicants.

Asked to comment, an HPE spokesperson said, "Inclusion is part of our values at HPE, and we do not tolerate discrimination in any form. We're reviewing this complaint."

HP Inc did not respond to a request for comment. ®

Sponsored: How to simplify data protection on Amazon Web Services

May 22, 2020